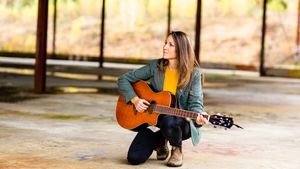 2022 & 2021 ISC Semi-Finalist - 'Quiet Hearts'
With multiple East Coast Music Award (ECMA) and Music Nova Scotia nominations under her belt, Kristen Martell is making a name for herself in the East Coast music scene and beyond.  
Working with acclaimed songwriter, turned Producer/Engineer Gabrielle Papillon, Martell released her second record on Sept 30, 2022.  It was up for 'Album of the Year' and 'Folk Recording of the Year' at the 2023 ECMA's.  Martell's work explores new territory with cinematic folk pop anthems in an evolution of sound that remains true to her earthy roots.  It is her most confident, self-assured and emotionally compelling work to date.   
With her ethereal voice and intricate guitar picking, 'Every Season' is a lovingly crafted album full of surprises and moments of beauty and features Canadian Icon Old Man Luedecke on banjo.  It draws upon inspiration of the changing seasons and the parallels to the rhythms of life.  With every change, every hardship there is a new outlook;  a new beginning...a new season.